Since moving into our new home, it's been a whirlwind of unpacking, and it hasn't always been the most planned out process. There are boxes still waiting for the light of day in our "office" room. The junk drawer is already unruly.. and don't get me started on the garage..
I spotted this challenge on the
Bowl Full of Lemons
blog. Toni breaks it down one project at a time on organizing your home! So, in an effort to whip this house into shape, I say
bring it on
!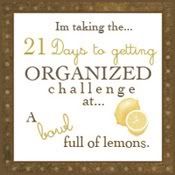 So here it goes!
*I probably wont do one each day, but spread it out!
*Oh and since I don't have children yet, I'm going to substitute something else for "Toy Organization" but we will see...
Junk Drawer
Computer Desk
Dresser Drawers
The Pantry
Coat Closet
Toy organization
Laundry Room
The Freezer
Spice Cabinet
Medicine Cabinet
Under Bathroom sink
Medicine/Vitamin storage
The Fridge
The Mail
Master Closet
Photos
You Pick! {The Office!}